IAAF/ATHLETICS
Rob's love of Athletics began by watching the inaugural IAAF World championships in Helsinki in 1983 and he's commentated on every edition of the biannual champs since Helsinki played host for the second time in 2005.
In 2008 he was proud to become one of the IAAF's lead TV world feed commentators and as well as the World outdoor champs, he has covered almost every World indoors, World cross country and World half marathon championships since.
Broadcasting athletics to an international audience for more than a decade means Rob's voice is widely recognised across the Caribbean, East and South Africa, Canada and New Zealand. This has led to him being chosen as one of the lead voices on the international coverage of the last 3 Commonwealth Games. During the Gold Coast in April 2018, Rob was the only Northern Hemisphere athletics commentator to be flown down for the Games worldwide Coverage.
In 2014 (After 3 consecutive Summer Games for BBC Sport in Athens, Beijing and London,) Rob teamed up with the Olympic Broadcasting Service (OBS,) to become one of the lead voices on their international tv track commentary at the Olympics and Youth Olympics.
Commentating on the number one Sport at the Olympic Games live in the stadium in Rio 2016 (to a large global audience,) was the realisation of a long held ambition for Rob and remains one of his fondest broadcasting memories.
As well as major games and championships in athletics, Rob regularly flies around the world commentating on some major road races and events.
Having provided 10 years of Channel 5/BBC coverage of the Great Ethiopian Run in Addis Ababa, Rob received a special award recognising his service to the event and to the country from double Olympic champion Haile Gebrselassie. Another very fond memory from his 20 years in the industry so far.
Rob also regularly commentates with good friend Tim Hutchings on a distance running race series on Star Sports in India with annual events in Bangalore, Delhi and Kolkata and he has clocked up a decade of BBC coverage on the London Marathon, (having completed the race 5 times as a club runner.)
Rob is delighted to have a long established ongoing relationship with Film Nova, working with them on their live network coverage of their Great Run series with many of the races broadcast on Channel 5, BBC Two, BBC Wales and BBC Scotland.
In 2018 Rob was honoured to be asked to join the England Athletics Hall of Fame panel, deciding which former greats deserve recognition at their prestigious annual autumn awards event.
Athletics is and will remain a big part of Rob's career and life.
---

Channel 4
TRIATHLON, WORLD PARA ATHLETICS, PARALYMPICS & WINTER PARALYMPICS
Rob has been broadcasting on Channel 4 since 2007, starting with presenting and then commentating on a long established Triathlon Series produced by Dream Team Television.
4 years later in 2011 Rob began commentating on Channel 4's biannual coverage of the World Para Athletics Championships, a role he still has today.
Then in 2012 he was delighted to be asked to share lead London Paralympic Athletics commentary duties alongside John Rawling and Katharine Merry.
Together the 3 of them were given the chance to commentate on the extraordinary award winning and groundbreaking Channel 4 coverage of the Games.
It was an incredible 10 days in the stadium during which Rob's live commentary on 3 of David Weir's historic 4 Gold medals was watched by an audience of more than 6 million people. A huge number in Paralympic Sport.
Rob has gone on to cover every Summer and Winter Paralympics since 2012 and is proud to have become Channel 4's lead commentator on all Opening and Closing ceremony coverage.
In 2017 and 2018 Rob enjoyed presenting two very fun editions of the BDO Darts World championships at Lakeside in Surrey. Having been a BBC reporter on the event for 7 years, Channel 4 acquired the rights for 2 years and asked Rob to be the main network presenter, a role and an event he loved.
Over the last decade Rob has been given some great opportunities by Channel 4 and continues to be very proud and grateful for his long association with the Channel.
---

BBC SPORT
OLYMPICS & WINTER OLYMPICS, SNOOKER
Rob's BBC Broadcasting career began with reporting roles on Rugby Special and Athletics Focus whilst still a staff member at Television Centre between 2002-2006.
After going freelance in the autumn of 2006, Rob's BBC on screen presence continued with his memorable role as on the water Olympic Sailing reporter for the Beijing 2008 and London 2012 Olympic Games.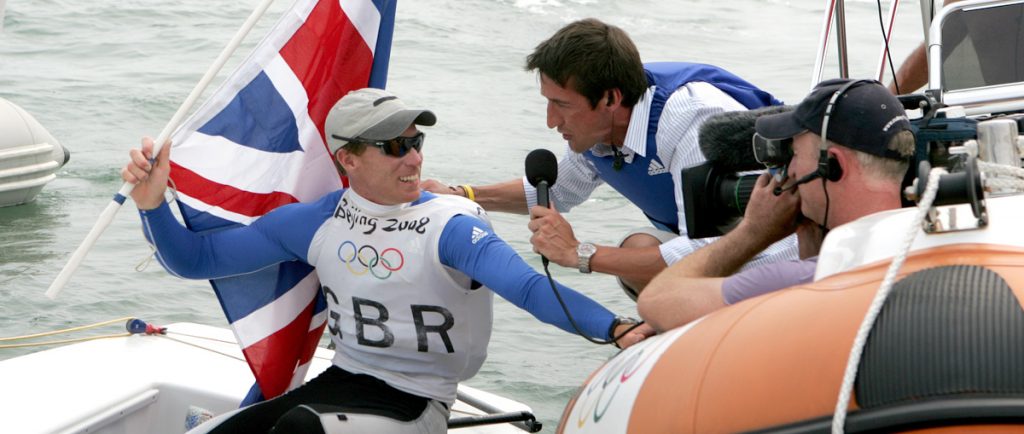 A combination of his raw enthusiasm and the unpredictable environment of broadcasting live at sea, seemed to strike a chord with viewers.
Across the two regattas Rob covered 5 gold medal winning moments live for British Sailors, including 2 interviews with Ben Ainslie who became the greatest Olympic Sailor in history with his 4th gold in Weymouth.
Rob always maintains he was made to feel very welcome by the British team and looks back very fondly on his time with them at both games.
In between those two summer games Rob had his first taste of a Winter Olympics for the BBC, who added him to their commentary team for the Cross Country and Biathlon in 2010 in Vancouver.
With some obvious similarities to the world of distance running, Rob developed a keen interest in both sports immediately and armed with diligent prep and a passionate delivery, he has brought some iconic moments of Winter Olympic history to life across the 3 Games he's covered so far in Vancouver 2010, Sochi 2014 and Pyeongchang 2018.
Further high profile BBC commentary opportunities arose for Rob in 2017 and 2018 when BBC Events invited him to be part of their network Invictus Games coverage live in Toronto and Sydney.
With his passion for athletics and his knowledge of Paralympic sport, Rob has helped bring some poignant Invictus stories to life with his characteristically warm and empathetic delivery.
In front of camera, there's little doubt that Rob's most instantly recognisable role on the BBC is that of Snooker Master of Ceremonies, a position he's held since December 2007.
Right from the start he was made to feel welcome by the snooker community at the 3 major annual BBC events. (The UK Champs in York, the Masters at Ally Pally and the World Championships at the iconic Crucible Theatre in Sheffield.)
Rob's down to earth approach and comfort in front of a large live audience seems a good fit for the snooker crowd and armed with his tongue in cheek catch phrase "Let's get the Boys on the Baize," he is now arguably the most distinctive and recognisable sporting MC appearing regularly on Network Television.
As his interest in the sport and it's players has grown, so too have the opportunities to use all his broadcasting skills. The BBC have expanded his role to include both live post match and candid in depth preview interviews with players, as well as presenting a number of the evening highlights show on BBC Two at the Crucible.
With his knowledge of Snooker and Paralympic Sport, Rob was proud and honoured to become an official ambassador for the World Disability Billiards And Snooker (WDBS) in 2018 and is keen to play a small part in helping Snooker regain it's place in the Paralympics for the first time since Seoul in 1988.
Rob always looks forward to the Snooker events and in particular his annual 3 week stint in Sheffield is one of his favourite times of the year.
---

WIMBLEDON
Rob first covered Wimbledon whilst a BBC staff member in 2002. Then in 2012 IMG asked him to join their their All England Club Channel/Website reporting team and he's been an integral part of their coverage since. Initially a roving reporter role, Rob's remit has now also expanded into commentary and sitting on Centre Court in 2016 for Andy Murray's second title is a moment he will never forget.
---