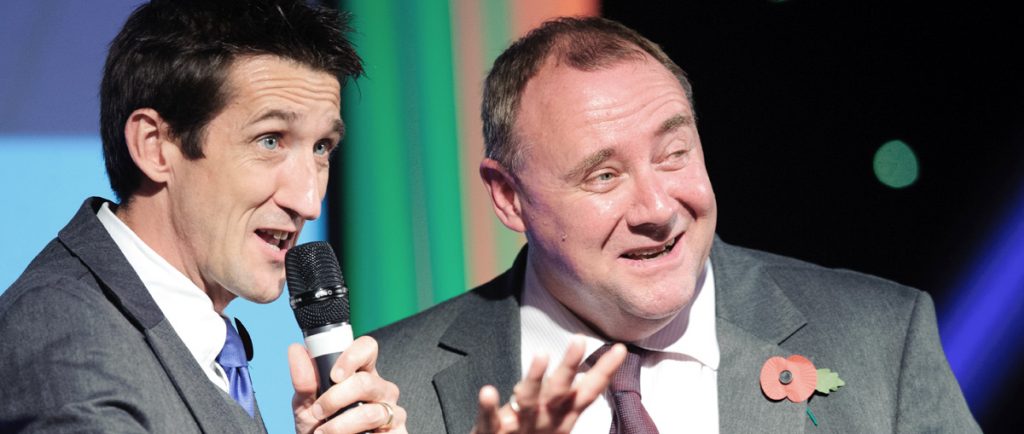 Hosting
Rob regularly acts as an Event host and Auctioneer at black tie events and sports award nights up and down the country.
He has worked with many major sporting governing bodies, leading corporate clients including HSBC and Holiday Inn and he works regularly alongside events companies like MBN Events and Paramount Creative.
Rob's highlights so far include acting as host and interviewer for "An Audience With Sir Ian Botham & Sir Steve Redgrave" in Central London, interviewing both Sir Geoff Hurst and Nobby Stiles MBE at a stars of '66 Gala Lunch in Manchester and flying to Addis Ababa for 36 hours, to host a dinner celebrating the history of Ethiopian Distance Running alongside double Olympic Champion Haile Gebrselassie.
Inspirational speaking
Rob Walker has a reputation for always being as diligent in preparation as he is enthusiastic at an event itself.
Becoming a broadcaster and a Commentator in particular was Rob Walker's childhood dream and in his motivational speeches, Rob Walker underlines his strong belief that anyone can force open the door to their desired career with a thick skin, enough determination and a touch of humour.
With self deprecating and thought provoking examples of his own journey through the unpredictable world of broadcasting, Rob Walker's warmth, honesty and ability to tell a story appeals to a wide cross section of people – not just sports fans. He always leaves audiences feeling positive and motivated about their own journeys, ideas and potential.
Rob Walker is a highly skilled, witty and accessible motivational speaker and host.
"Rob Walker I can only express an approximation of the gratitude that is due to you for last night's bravura performance: it was truly awesome. You are so skilled and pitched it perfectly right. You made the boys feel so special and at the centre of events. I can't repay you for your contribution to the success of the evening."
Dr.Trevor East. Headmaster Northwood boys prep school North London.
Lecturing
Rob enjoys lecturing to undergraduate and postgraduate students on media careers, journalism and life after study.
He is a regular contributor at The University of Exeter, Leeds Metropolitan University and the University of Sheffield.
Rob has worked as a part-time MA tutor on the Broadcast Journalism post graduate course at Falmouth College of Arts in Cornwall and he believes it's important to be both honest and positive with students about the road which lies ahead after graduation.